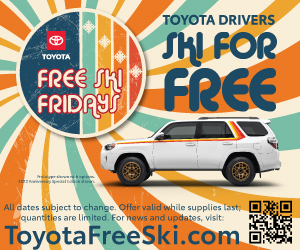 When is Toyota Ski Free Day?
49 DEGREES NORTH – March 1, 2024
SILVER MOUNTAIN – March 8, 2024
MT. SPOKANE – March 15, 2024
LOOKOUT PASS – March 22, 2024
*Please check each ski area website the week of the Toyota Ski FREE day to see whether you need reservations or may just drive up in your Toyota to receive the FREE ticket.
What is Toyota Ski Free Day?
The DRIVER of any TOYOTA who comes to the designated Ski the NW Rockies ski area on the designated day will receive a FREE lift ticket VALID FOR THAT DAY ONLY. No vouchers or passes are required. Just drive your Toyota to the mountain on that day.
Toyota representatives will be in the parking lot at each resort for each event under a Toyota tent. When the customer arrives in their Toyota they receive a free lift ticket for that day. It's that simple.
If multiple people show up in a Toyota and they all show proof of ownership, ONLY THE DRIVER OF THE TOYOTA THAT IS THERE WILL RECEIVE THE FREE LIFT TICKET. You all are very creative! See the legal language below!
*Promotion is open to participants that hold a valid U.S. driver's license in their state of residence and are the driver of any Toyota, Scion, or Lexus vehicle driven onsite to a designated Event location on the corresponding Event date. Eligible participants must present their Toyota, Scion, or Lexus vehicle to the Toyota representatives at the designated area onsite for the Event. No substitute proof of ownership (e.g. vehicle keys, registration, etc.) will be accepted. Toyota representatives will check eligibility, and upon confirmation of eligibility, will issue one (1) complimentary lift ticket, or a voucher to be exchanged for the lift ticket, valid only for that Event location and date. Limit one (1) complimentary lift ticket per eligible driver/vehicle per Event location. Offer valid while supplies last; quantities are limited. The approximate retail value of each lift ticket varies by Event location. Lift ticket may not be resold, transferred, or exchanged. Participants assume full risk and responsibility for any bodily injury, death, property damage, or any other injury or damage associated in any way with the Events. This promotion is subject to change, alteration, or termination at any time. Check ToyotaFreeSki.com for news and latest updates.
Then be sure to go purchase one before February from your Local Toyota Dealers. Toyota has a large selection of available All-Wheel Drive or 4-Wheel Drive vehicles!