Last Updated: 2021-06-01 10:01:15
New snow (Summit) 48hrs — 0″
New snow (Base) 48hrs — 0″
Surface Condition — None
Mount Spokane is now closed for the 2020-2021 winter season. What a wonderful season we had. We want to thank each and everyone of you, our staff, volunteers, ski patrol, vendors, sponsors, and community who came together to make the season possible. We are looking forward to the 2021-2022 winter season, and exciting new improvements are in the works. So stay tuned to our website www.mtspokane.com for updates and additional info. Thank you again, and we'll see you on the snow!
It's the best time to purchase season passes for the 2021-22 winter season. Purchase online at www.mtspokane.com
Mt. Spokane Ski & Snowboard Park is a recognized 501(c)3 non-profit charitable organization, founded in 1997 by an all-volunteer board of directors, who offer guidance to our professional management staff.  The organization exists to provide a family-friendly ski area where customer service is a priority in part by returning all profits to the recreation area.
Mt. Spokane Ski & Snowboard Park has been a fixture in the local Spokane community since the 1930's, when members of the Spokane Ski Club formed the first organized skiing on the mountain.
In 1997, community volunteers again joined to incorporate the ski area as a 501(c)3 non-profit organization. Since then, Mt. Spokane has been very proud to remain closely involved with many community organizations, donating services, man hours, and in-kind gifts towards education, community programs, at-risk youth, health agencies, and countless other school, church, and non-profit groups.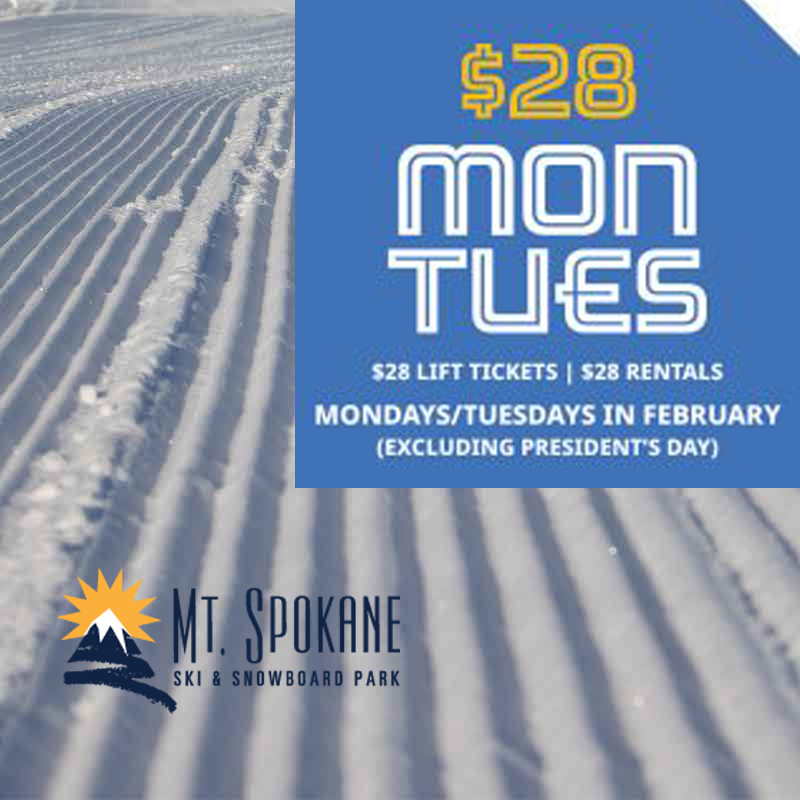 February means big fun and great skiing. All through February, we are offering $28 lift tickets …
There don't seem to be any events right now. Check back later!
Sign up for our newsletter, and receive updates on when there's new deals and events!
Sign up for our conditions report for a daily report from every resort first thing every morning!